Roger Muma lap harp
This email address is being protected from spambots. You need JavaScript enabled to view it.
22 string LAP HARP
made by Roger Muma
New in c. 2009.
Includes a carrying bag.
Good condition & holds tune very well.
Asking $800
CONTACT Vicki: This email address is being protected from spambots. You need JavaScript enabled to view it.
Dusty Strings FH34 Harp For Sale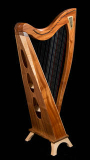 34 strings, 4¾ octaves

Mixture of woods, one of a kind

Full set of Loveland sharping levers

Removable stand included

Deluxe case included, tuning key
The FH34, our compact 4¾-octave, solid wood harp delivers brightness, depth and clarity, and has a great playing range. This harp will satisfy both the professional and the beginner with its resonance and power, and will please the most discerning eye with a tasteful display of fine woodworking. The harp is in perfect condition and only 1 year old.
Contact This email address is being protected from spambots. You need JavaScript enabled to view it.
36 String floor harp with full set of levers

Harp has carved front column.
Height 55", depth 30", weight about 20 lbs.
It has a custom padded, zippered cover.
About a dozen instructional/ music books and a bag of harp strings to go with this.
The maker is Webster out of Michigan. Currently he is charging over US$5,000 for this exact model ( not including the custom cover or instructional books or strings)
Price is negotiable. Contact This email address is being protected from spambots. You need JavaScript enabled to view it.> or 1-519-472-1455

.
Stanley & Stanley harp for sale
36 string lever harp, recently restored by Tat Stanley of Stanley & Stanley. Beautiful design; rich, full sound. Cloth cover included. Perfect for beginner and intermediate harpists. $2,200.Contact Jeannette Francey at This email address is being protected from spambots. You need JavaScript enabled to view it.

L&H 2000, All-Electric, White Semi-Grand Pedal Harp with Harp Music
David Linabarry, the husband of the late Pegi Engelman, is selling her harp. If you know of anyone who might be interested, you can contact David (614-507-0467) or by Sharon Avis email This email address is being protected from spambots. You need JavaScript enabled to view it. or phone (740-936-5051). The harp can be seen and played in Sunbury, Ohio. The price includes a Salvi adjustable bench, black, wooden music stand, Crate acoustic, 1250 amp, two full sets of strings, padded transport cover and harp dolly. $15,000 USD.
Lyon and Healy Prelude
Lyon and Healy 'Prelude' Harp
Great condition, No visible knicks or scratches. Purchased new 4 years ago. Mahogany finish,
serial number 60848.
Located in Toronto, ON
Please contact Annie @
6472105109
or
This email address is being protected from spambots. You need JavaScript enabled to view it.
if interested.
5000$ or best offer
CAMAC PEDAL HARP ELECTRO-ACOUSTIC
Camac pedal harp, electro-acoustic, 44 strings, extended soundboards, ("Little Big Blue" in BLACK finish). Purchased Oct. 2007, still in perfect condition. Camac harps have an incredibly clear sound which is perfect for acoustic solo, orchestral, and chamber music performances. This harp can also be amplified for jazz, pop, and musical theatre, or played directly into your computer for studio recording and composition. Will come with transport cover set and a wooden shipping crate. Asking $15,000.00 USD ($20,000 CAD) or best offer. Shipping will be extra from Nova Scotia, Canada. This email address is being protected from spambots. You need JavaScript enabled to view it.m, 902-266-3864.